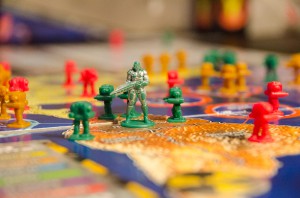 Dylan and I played a game of Risk 2210 this weekend. I finally managed to clear space to setup a gaming table in the man cave. This allows us to leave board games in play and continue later – without the little kids or the cat demolishing things. In this case, Dylan demolished me anyway, so no loss. I do like this version of Risk even better than classic – mostly because it is limited to 5 "turn years", so doesn't go on forever. It still suffers from the classic Risk game mechanic of rolling dice to attack, so you can (as I found) quickly lose ground by losing dice rolls (either attacking or defending).
This new version does have added features, such as command cards, which (if you are lucky enough to draw them) can quickly turn the game around. It also features underwater (naval) territories as well as lunar territories. Game mechanics such as having commanders (land, naval, space, diplomat, or nuclear) which allow you to roll (or defend) with 8-sided die, space stations (to help defend, or get you to the moon), etc.
But all in all, it's still Risk, and still basically a terrritory-conquering game. Fun, but only occasionally. I'm trying to use it to get Dylan into board games, as he really likes Classic Risk. Next will be to get him to play War of the Ring.