All The Light We Cannot See by Anthony Doerr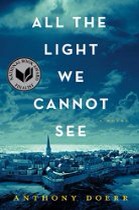 Just finished reading Anthony Doerr's historical novel, All The Light We Cannot See. This was a wonderful reading experience; Doerr's writing is so expressive and beautiful. The book is the story of two parallel lives just before and during WWII. One is the story of a German boy, Werner, "recruited" into Hitler's Nazi Youth. An orphan, he is accepted into an elite school because of his genius with radios. It is there he is trained as a soldier (he is 14 when he starts ) and hones his electronics skills.
Meanwhile, the other parallel story is about a blind French girl, Marie-Laure, and her life with her father and uncle during the same period. WWII starts, and thus the lives of both Werner and Marie-Laure intersect and change drastically. Such wonderful, evocative prose; I could not put this book down. Highly recommended.