Tue 24 May 2011
Posted by boz under
Books
,
Technology
Comments Off

on Arthur Phillips – The Tragedy of Arthur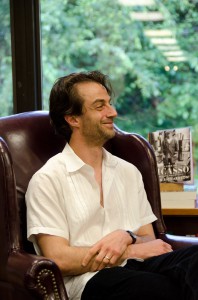 I went to see Arthur Phillips give a talk on his latest book, "The Tragedy of Arthur", tonight at Politics and Prose Bookstore in DC. As usual, he gave a very engaging talk/reading of the book. I've been to a few of his talks now (he's one of my favorite authors), all at Politics and Prose: for "The Song is You" , "Angelica", and "The Egyptologist".
See previous posts: Arthur Phillips Reads "The Song is You" and Walter Isaacson, Arthur Phillips recent events.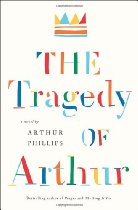 His latest book (The Tragedy of Arthur) is different: the premise is that this is a memoir of his (actual) life with his (con-artist) father and sister. He has written the Introduction to a newly discovered Shakespeare play, "The Tragedy of Arthur" (discovered by his father, a convicted forger – see where this is leading?). I was really drawn into this novel (memoir). Ok, it's not a real memoir, but it reads like one. Just go with it. I haven't read the play at the end yet, but Mr. Phillips mentioned it has been staged by a theater company in NY for the audio book. That would be interesting!
At one point tonight Mr. Phillips asked if anyone in the audience was a "real" Shakespearean actor and would like to read one of the soliloquies. Turns out someone was there who was with the Shakespeare Theater Company, and he came up to read. Not sure if that was a coincidence. :)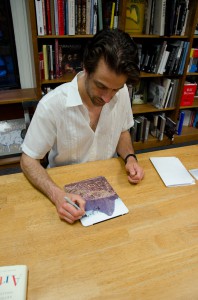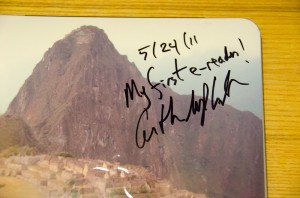 One different thing about tonight is that I asked Mr. Phillips to sign my "ebook" version – i.e. my iPad. He smiled and did so, though he hesitated to "mess up Machu Picchu" (I have a Gelaskin on my iPad, from a photo I took on my honeymoon at Machu Picchu). Turns out that signing ebooks is a real possibility now, though it hasn't really hit the mainstream yet. Soon? Hopefully it can be done in realtime, as part of the fun of getting a book signed is meeting the author. A "virtual" signing isn't the same thing. We'll see. For now I plan on adding more signatures to the back of my iPad. When the back is filled I'll come up with something…