Wed 12 Dec 2007
Posted by boz under
Archaeology
Comments Off

on Stonehenge Lecture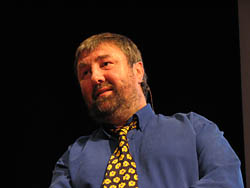 Last week I went to a lecture on the Stonehenge Riverside Project, by Professor Michael Parker Pearson. Prof. Pearson spoke for almost 2 hours; he is a very engaging speaker. I videotaped the lecture (got a nice front-row seat); the shot at left is a still from the lecture.
This was part of National Geographic's "Live" series of lectures on the past [I also attended the Maya lecture]. Nice venue, and they open the employee parking lot (right under the lecture hall) for the public on these evenings. Very convenient as parking in DC is nasty.
The true purpose of Stonehenge is not known, but they are trying to answer that question in the context of the wider surrounding area – which hold other monuments such as Woodhenge and Durrington Walls. The talk focused mostly on Durrington Walls, where the floors of neolithic dwellings are being excavated. It is thought that these may well have been the houses of the workers who actually built stonehenge.