Mon 17 Mar 2008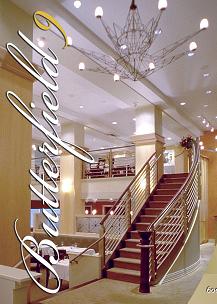 Kirsten and I had a great evening this past Saturday. We had dinner at Butterfield 9 in Washington D.C., before walking a block to see David Russell perform classical guitar at the Church of the Epiphany.
The dinner was great. The restaurant has a nice ambiance – quite elegant. Kirsten started her meal with the Longneck Squash Soup (goat cheese, roasted pancetta, and apple compote) – "Delicious". She then had a 1/2 plate of the Carnaroli Risotto (glazed butternut squash, swiss chard, and black truffle) – "Delicious.
I had the "Chocolate Steak" (New England Elk, creamed parsnips, bitter chocolate, fleur de sel). The waiter said that elk tastes a bit like venison. That would be a good comparison, except that I have never had venison (that I remember). I figured I'd give it a try. Cooked medium-rare, the elk was melt-in-your-mouth delicious. It was coated with cocoa, making for a slightly crispy crust, while the bitter chocolate sauce under the steak was a neat complement; it definitely enhanced the flavors. My only issue was the size of the portions (small). Also, I was glad I ordered "Truffle potato puree" on the side, because what came with the steak was basically a garnish, and not a real side dish(es). The puree was delicious as well, though I would have preferred a more firm "mashed" potato side.
Neither Kirsten or I cared much for the "creme brulee" desert, as it was not a "classic" version; we would not have recognized it as creme brulee if not stated on the menu. It had a sort of "cookie" crust rather than caramelized sugar. The raspberry sorbet on the side with it was good.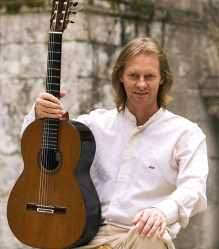 Butterfield 9 is only a block from the church where the concert was held, so we used valet parking at the restaurant and picked up the car after the concert.


The concert was very enjoyable; just Mr. Russell on a slightly raised platform at the front of the church with no amplification. I could hear the guitar just fine, but I had difficulty hearing his intros clearly (also partly due to his Scottish brogue :) ). The pews were hard to sit on for 2 hours (we were glad for intermission). The music however was great. We had been listening to his Bach and Baroque cd's – but he didn't play any of those pieces. I greatly enjoyed most of his pieces with the exception being the one that was actually written for him by a contemporary. Oh well.