Salman Rushdie talks about Quichotte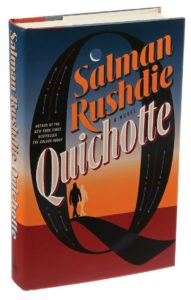 Saw Salman Rushdie last night at Sixth & I. Sponsored by Politics and Prose. Enjoyed hearing Mr. Rushdie speak; he's quite knowledgeable about literature and the world. I did NOT like the interviewer, Dolen Perkins-Valdez. She had too many anti-Trump, leading questions. Mr. Rushdie actually stated that he 'did not give the 45th President a name in the book so that it would not distract, and then I would have to address that'. The interviewer did not get the hint.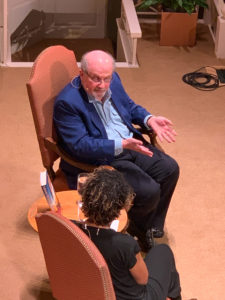 But such issues aside, this was a most enjoyable evening. The 2nd level of the main synagogue was not full and has great views of the stage. Once Mr. Rushdie and the 'interviewer' sat, I moved to the area to the side of the stage- perfect view of Mr. Rushdie (and I had that whole section to myself).
After the talk Mr. Rushdie signed books. The line was formed according to the number on the ticket you got when you arrived. I got there 15 min early and was still #187! But they called in groups, so could just sit while waiting. Moved quite quickly- I do t think it was 30 minutes before I got to Mr. Rushdie. He signed QUICHOTTE and 'Two Years Eight Months and Twenty-Eight Nights'.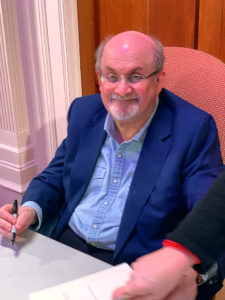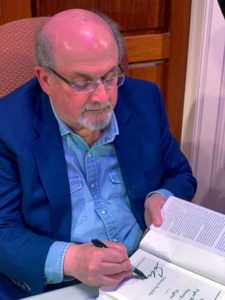 Sixth and I Synagogue is basically in Chinatown, so I walked around after (it wasn't even 9pm) to find dinner, as I already had to pay for parking anyway. Ended up at Wok and Roll (Chinese and Japanese) restaurant. Ordered a 'Tuna Lovers' roll and rice. Delicious sushi and I will go again next time at Sixth & I.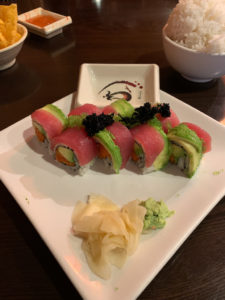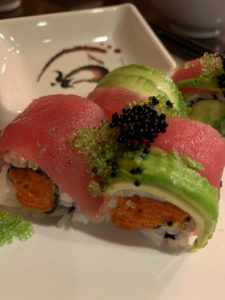 Note that this is D.C., so parking non-existent. I ended up at Gallery Place parking, for $25! But could not find street parking (nothing around at meters is legal until 6:30, and it was only 6). Rather than chance ticket/towing, I just spent the darn $$. Next time DEFINITELY TAKING METRO, as the Gallery Place/Chinatown stop is only about a block from the venue!