William Gibson: The Peripheral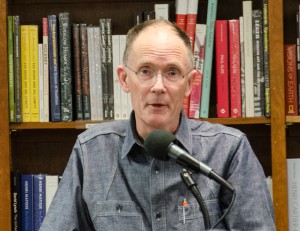 William Gibson at Politics and Prose, Washington, DC (November 8, 2014)
Where Flynne and her brother, Burton, live, jobs outside the drug business are rare. Fortunately, Burton has his veteran's benefits, for neural damage he suffered from implants during his time in the USMC's elite Haptic Recon force. Then one night Burton has to go out, but there's a job he's supposed to do—a job Flynne didn't know he had. Beta-testing part of a new game, he tells her. The job seems to be simple: work a perimeter around the image of a tower building. Little buglike things turn up. He's supposed to get in their way, edge them back. That's all there is to it. He's offering Flynne a good price to take over for him. What she sees, though, isn't what Burton told her to expect. It might be a game, but it might also be murder.
–blurb from The Peripheral.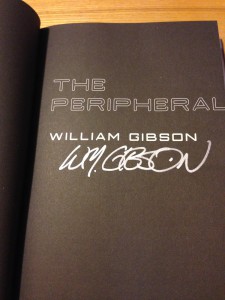 I must be getting old. I had my older son Dylan go next door during the talk to reserve a table for us (knowing it would be a long wait). The restaurant beeper naturally went off (Dylan came to get me) while I was waiting in line to get my copy of The Peripheral signed. So, I had Dylan wait in line to get the book signed for me while Preston and I went next door to order dinner. And yes, he was thrilled to do that for me – I could tell by his glare. Right.
I didn't get to say 'Hi" to Mr. Gibson this time. Last time I saw him was in 2007; right here at Politics and Prose! – See my previous blog post from 2007 (and compare the pictures).
I would have just stayed in line but we needed to have dinner and get Preston home for bedtime. Dylan got back to the table about 5 minutes before his pizza: "That line moved about 2 inches every 5 minutes, Dad!".
Love the silver ink that Mr. Gibson used on the black background!
Dinner at Comet Pizza next door was very good. The wait for the table was 45 minutes, but we were in the bookstore, so no worries. The waiter was very apologetic for the wait and we had excellent service. I love their wood-fired pizza. So does Preston.
We have been coming on Saturdays the past few times we have been here, and thus it has been way too crowded to get a ping-pong table. But this time we got the best table yet – table at rear, just before the ping-pong area. This is MUCH preferred over the main dining area, which is crowded, and poorly lit (we like to play games like Roll For It while waiting).
Preston ate a whole cheese pizza himself!
Yes, I did something nice for Dylan for being my proxy – he got the book he wanted. :)