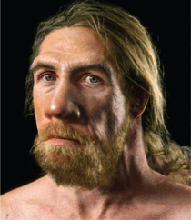 A recent paper in Science used genetic analysis of ancient Neandertal DNA to show that at least some individuals had red hair and fair skin (similar to their modern European counterparts). The researchers were able to extract a pigmentation gene, mc1r, from the bones of two Neandertals (one from Spain, the other Italy).
The picture at right is a reconstruction of what a Neandertal who possessed these particular genes would have looked like.
The same researchers also recently isolated the FOXP2 gene from Neandertals, and showed that it was identical to modern humans. The FOXP2 gene is one of the genes known to play a major role in speech and language. Since the Neandertals had an identical version of this gene, they may well have had the capacity for speech.