Symposium: Dawn of the Andean Civilization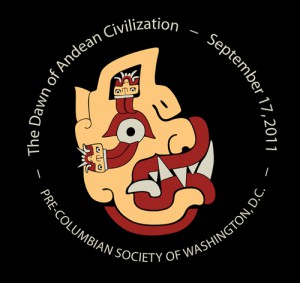 Last Saturday I attended a very interesting all-day seminar in Washington, DC. The Pre-Columbian Society of Washington DC has an annual symposium at the U.S. Navy Memorial's Naval Heritage Center. At right is the design on the symposium T-shirt. It is a feline character (I'm going to assume a jaguar) from an adobe mural at Huaca Partida, Nepeña Valley, Peru (something like > 1500 years ago). Neat.
This location is very convenient; right at the Archives Metro stop on the Green line. This year's topic was "The Dawn of the Andean Civilization. The link above goes to the symposium website; here is a synopsis:
Chavín de Huántar, the massive ceremonial center constructed more than 3,000 years ago high in the Peruvian Andes, attests to the great antiquity of Andean civilization, but the roots of this florescence occurred at least two and possibly three millennia earlier. During this one-day symposium some of the world's most renowned Andean scholars will present new research that challenges current notions about the genesis of Andean society. Did a singular, linear progression emanating from one early center lead to the magnificence of Chavín de Huántar and, later, the splendor of the Moche kings and the majesty of Tiwanaku? Or did the many pinnacles of achievement that make up the rich tapestry of ancient Andean culture emanate from multiple centers? Did different traditions emerge along the coast and in the highlands? In the north and in the south? Did these developments occur everywhere at the same time? This symposium will examine these and other questions, revealing a dynamic period that witnessed the first large-scale monumental architecture, large permanent settlements, intensive food production, social stratification, and widespread distribution of shared art forms and religious practices. So please join us for a day of new insights into the dawn of Andean civilization.
I really enjoyed the seminar; I have visited Peru (on my honeymoon) but that was basically to see Machu Picchu (Incan, ca. 1500 AD). This seminar focused on the northern coast of Peru (north of Machu Picchu), from about 1200 BC to 600 AD – much earlier. Prior to this series of talks, I had almost no knowledge of the Pre- Moche civilizations of the Andes so this was a very enlightening day.
Plenty of breaks, and for lunch I visited Teaism (right across the street) for a delicious "chicken curry" dish and an IPA. Then back for more talks. I'll post a synopsis of the talks from my notes at a later time…
PROGRAM
8:15 a.m. — REGISTRATION, Morning Refreshments
9:00 a.m. — WELCOME AND OPENING ANNOUNCEMENTS
9:15 a.m. — Playing in the Dark: Archaeological Analysis and Evidence at the Dawn of Andean Civilization *Tom Dillehay
10:15 a.m. — BREAK
10:45 a.m. — Household Archaeology and the Emergence of Social Complexity at Peru's North Central Coast: New Perspectives from the Late Preceramic Site of Bandurria, Huacho Alejandro Chu
11:35 a.m. — The Role of the Casma Valley in the Development of Early Andean Civilization Tom and Shelia Pozorski
12:25 p.m. — LUNCH
1:45 p.m. — The Settling of the Landscape: What This Meant to Formative People in the Titicaca Basin, Bolivia Christine Hastorf
2:35 p.m. — Changing Views on the Andean Formative Period: The Perspective from Chavín de Huántar John Rick
3:25 p.m. — BREAK
3:50 p.m. — The Dawn of Andean Civilization as Viewed from the Shores of Peru's Central Coast Richard Burger and Lucy Salazar
4:40 p.m. — BOOK DRAWING BREAK
4:50 p.m. — Panel Discussion All Speakers (Moderated by Dr. Dillehay)