Tue 19 Jun 2007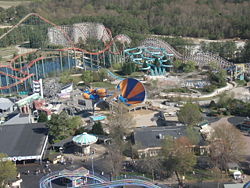 On Saturday (June 16), I took the boys (Brandon and Dylan) to Kings Dominion Theme park, in Virginia (about 85 miles south of Washington, DC and about 120 miles from our house). We got off to a late start, and hit major traffic on 95 in northern Virginia; it took us about an hour to travel 10 miles. Thus total time to get there was about 3.5 hours vs. the normal 2.25 it should take. The return trip didn't have a lot of traffic, so we made it back in a little over 2 hours.
The park itself had a lot of people, but I don't think it was as packed as it "normally" is. The parking lot was not full, and none of the lines were more than 15 minutes. However, the boys didn't want to try any of the roller coasters after the Rebel Yell, and we ended up doing the bumper cars. We then spent 1.5 hours at the Tidal Wave pool. They liked that, though I was glad I had brought a book (and managed to find a chaise lounge under an umbrella -they were scarce). The tix I had purchased (package from work) also included dinner, so we had all you (care to) eat hamburgers, hotdogs and soda. I didn't realize until 10 minutes before the food pavilion was to close that it also included beer. Oh well – I managed to grab a couple.
The park is quite large, and there was no way we could find anything without a map. Finding a map was also a trek, but we got one in one of the gift shops (free). Brandon wanted to navigate, so he used the map to take us (the really, really long way) to the Wave pool. He then decided navigation was not his specialty and gave the map to Dylan. Dylan didn't even try and handed it to me.
After dinner I convinced both boys to ride the Grizzly roller coaster as well as the Anaconda. We also did the go-karts (I drove with Dylan and Brandon drove his own kart). Brandon got a spray-on tattoo (a purple dragon). I don't think he plans on bathing for awhile so it won't wash off. The Eiffel tower clone in the middle of the park was closed, so we didn't get a chance to go up in it – I imagine that is a great way to get your bearings as you can see the whole park from the top.
I wanted to go on a few of the other rides, but was not up for leaving the boys to themselves while I did so. Oh well – probably a good thing that they didn't get to see Dad lose his dinner. :)
I had to constantly steer the boys away from the midway games, but relented at the end on the way out. The ride home was uneventful. All in all, I'm not going back any time soon, as a 5+ hour round-trip is not worth it unless you actually ride the coasters! I asked the boys what they liked best and they both said the pool and the free sodas. I guess I can replicate that this summer with the local pool and a six-pack of Sprite.